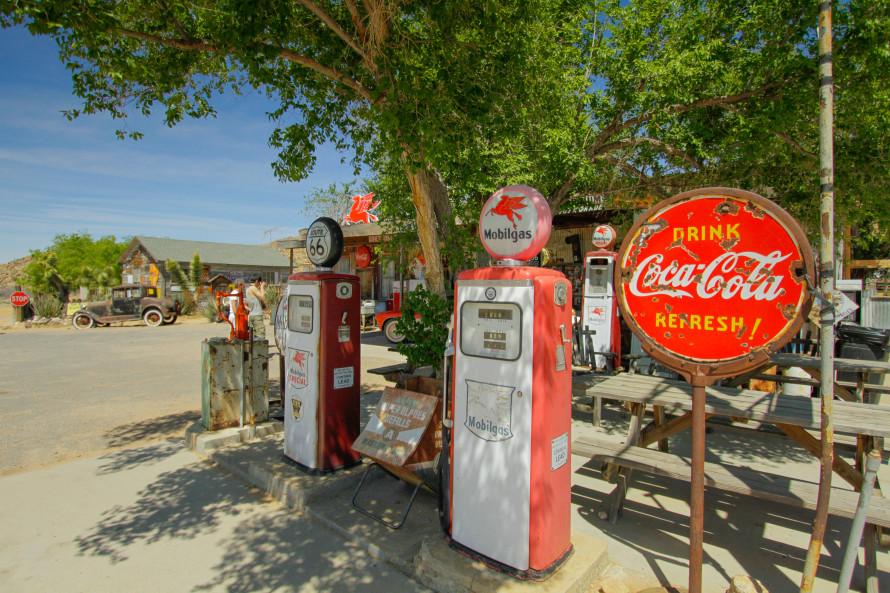 Itineraries
It takes years to explore Arizona's nooks and crannies, but you only have a week. Here are some "bite-sized" suggestions for exploring the state. These five- and six-day itineraries highlight one area or one theme. As most visitors fly into the airports of the metropolitan areas, the itineraries also begin and end in Phoenix area or Tucson.
Get Your Kicks in Arizona! - The People and Places of Route 66
This trip will appeal to those with an appreciation of small towns and great stories. Explore the people and places along Historic Route 66 from east to west.
Arizona Flavors: Exploring the Agricultural Bounty of Arizona
Far from an arid basin, Arizona has a diverse and thriving agricultural scene and an up-and-coming wine industry. Highlights include several gastronomic immersion opportunities: a farm-to-table you-pick experience in Yuma; learning of the Sonora desert's food sources at the Arizona-Sonora Desert Museum; lunch at a new winery in Florence; and visits to the Valley's olive mill in Queen Creek and Agritopia in Gilbert.
Many people enjoy taking to the great outdoors with nothing more than a backpack of supplies, but rough-and-tumble adventures are not for everyone. Some prefer a more elegant experience in nature.
There are several caves in Arizona of varying difficulties boasting rare formations. Some are developed, and others are untouched.
Arizona Milestone Anniversaries in 2019
In 2019, Arizona will be celebrating the milestone anniversaries of some of the state's most iconic locations. With special events, tours and activities occurring across the state, everyone can join in on the fun of celebrating these significant anniversaries.
From world-famous pizza joints in Central Phoenix, like Pizzeria Bianco, to authentic, Mexican cuisine in Willcox at La Unica Tortilleria Y Taqueria, Arizona offers a unique and modern take on culinary favorites that tourists and locals alike can enjoy!
Arizona is home to many well-preserved cliff dwellings, pit houses, and petroglyph sites, where the ancestral tribes of Arizona lived, worked, and worshipped.
Dark Sky Sanctuaries in Arizona
In most cities, stars have almost disappeared from view. The International Dark-Sky Association (IDA) exists to combat this issue and raise awareness of the value of dark skies and the importance of environmentally responsible outdoor lighting. Arizona, home of IDA headquarters, prides itself on protecting the night-sky experience for future generations.
Arizona is home to 22 Native American tribes, 16 of which own and operate casinos throughout the state. Whether you are looking hit the slots as a quick road trip stop or planning a full casino resort vacation, Arizona has the perfect place for you.
Factories, Farms, Breweries, etc.
This is a list of places that offer backstage tours and access to unique experiences normally off-limits to the general public. Why search the internet to learn how things are made, when you could get an up-close view and see for yourself?
Arizona Music Museums, Festivals, and Theaters
Arizona is home to dozens of hip music venues, diverse dining combined with live tunes, outdoor festivals perfect for every season and the largest musical museum in the world.
Gold, silver, and copper can all be found in Arizona's red earth. It ranks second in mineral production out of all 50 United States. There are also plenty of prehistoric marvels, such as fossils and dinosaur footprints.
Looking for a sports lover's dream? You'd be hard-pressed to find a better location than Arizona, regular-season home to four major league teams, Spring Training baseball, record-breaking professional golf tournaments, three college football bowl games, four major NCAA universities, the 2015 Super Bowl, the 2015 NFL Pro Bowl, the 2016 College Football Playoff Championship Game and the 2017 NCAA Men's Basketball Final Four.